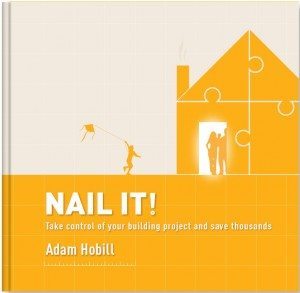 03 Feb

Book Review – Nail It! by Adam Hobill
When it becomes time to upgrade your home to suit your personal needs, how do you know where to start?
For most home owners, the decision to build, extend or renovate is not taken lightly. The time, cost and emotional drain it can bear on individuals, as well as families, can be the deciding factor as to whether you go ahead with your plans.
Well now I know.
Adam Hobill's first book Nail It – Take Control Of Your Building Project And Save Thousands is the essential guide for maintaining cost control and completing your building project on time and in budget.
"Building or renovating is one of our biggest investments you will ever make. Needless to say, there's a lot at stake…."
– Adam Hobill, Adam Hobill Designs
I commenced reading the first two chapters as part of my book review series, and as suddenly as I started – my 'critique' eye disappeared.
I began by dog-earring pages, highlighting important 'to do' information, bookmarking pages to come back to, and created a list of items I needed in preparation to start working on my own renovations and home extension.
Although I have yet to finish reading Nail It! from cover to cover, the layout allows you to skip to any particular stage of the book that applies to you. It seems I am still in the Ideas Stage, though with the help outlined by Adam, my mission in the coming months is to be able to progress into the Design and Quote Stages as prep for the eventual Build Stage.
For anyone considering a home building or renovating project Nail it! is a must read to help you understand what is required to stay in control of your project and most importantly – your budget.
Adam Hobill explains the building process in such easy to understand language that you will be armed with a better understanding of how the building industry works, giving you greater confidence when dealing with contractors within the trade.
From how to figure out your lifestyle/mortgage equation, to picking the right designer, I find I am already armed with the knowledge to help me (and help me direct my husband…) in all stages of our building dreams.
For just $24.90 you can own your very own Nail It! 'instruction manual' today.
---

About Adam Hobill
Adam Hobill lives and breathes the building industry. From a young age he explored building projects being constructed by his family's small building company. It was a natural progression for Adam to forge a career in the industry, and he is now a sought-after, national award-winning building designer.
Find out more – www.adamhobilldesign.com.au 
---
 Reviewed By: Llew Dowley